Screenshots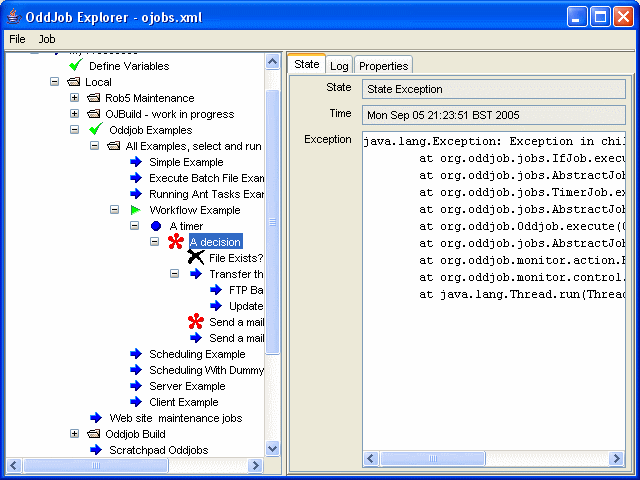 Oddjob Explorer showing the Job State Summary Tab. The left panel contains a tree view of all the jobs. The right panel shows the state summary for the selected job. The job is in an Exception state. The stack trace is provided for more information on the cause of the exception. There is more information on job states in the User Guide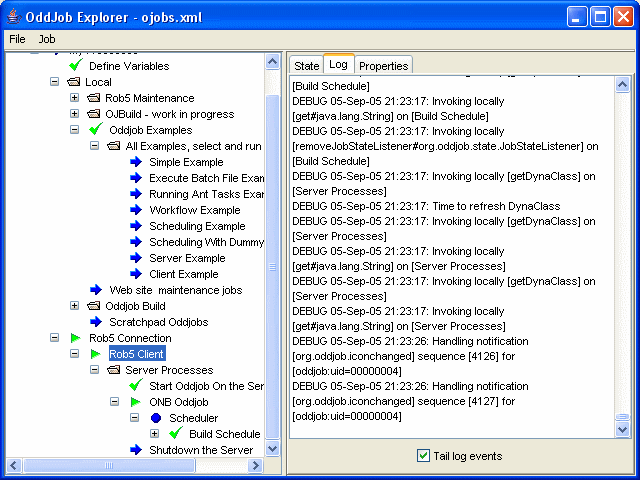 Oddjob Explorer showing the Log Tab. Oddjob captures log output from each component separately. The log panel shows just the selected job's log messages. This screenshot is a bit dated as Oddjob now also has a console panel that displays a process's console output. Log and Console messages are also captured across the network so you can always see what your jobs are up to.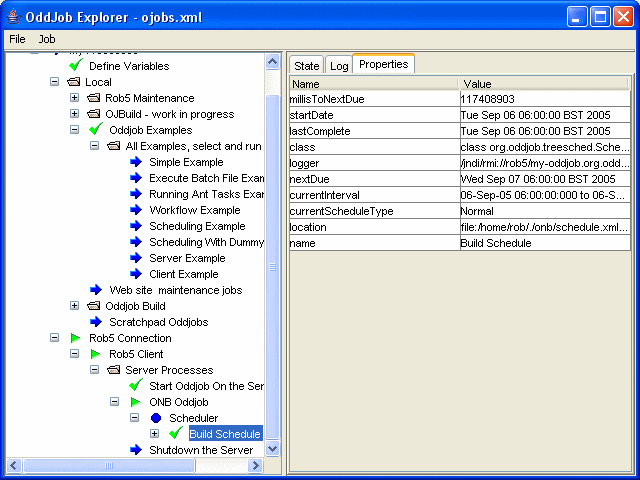 Oddjob Explorer showing the Properties Tab. Oddjob inspects a job's Java Bean properties and displays them in this tab. Properties are also reflected across the network. Here the properties of Oddjob's Over Night Build scheduler can be seen. The overnight build is running on the Linux server 'rob5'. You can see from the job tree in the left panel how Oddjob allows both local and remote jobs to be monitored and controlled from one place.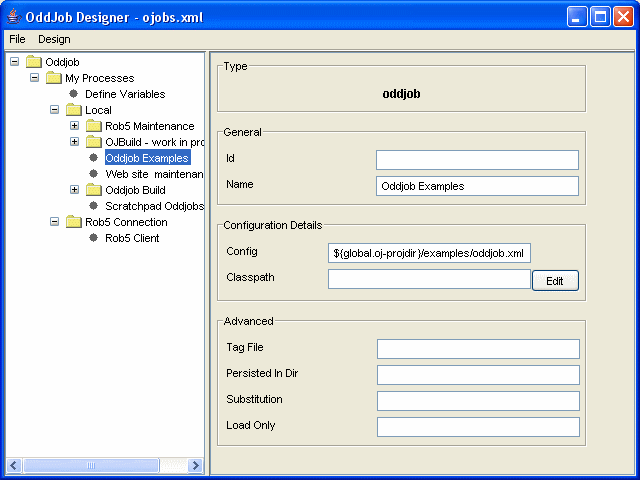 Oddjob Designer showing a component's configuration. No need to edit XML to configure Oddjob. Oddjob configuration is just as easy for jobs on the server. To move jobs just drag them about in the tree view on the left. You can also drag/cut/copy and paste jobs from Oddjob explorer, even to and from or within the server.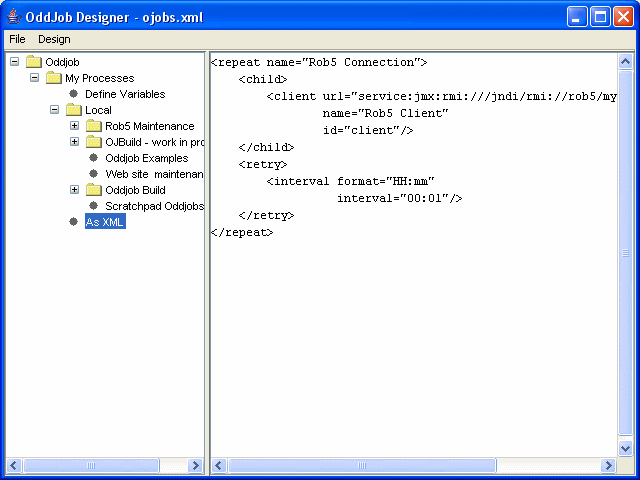 Oddjob Designer showing the components as XML. For those that like XML. The editor isn't great, you might prefer to copy and paste the XML to and from the XML editor of your choice.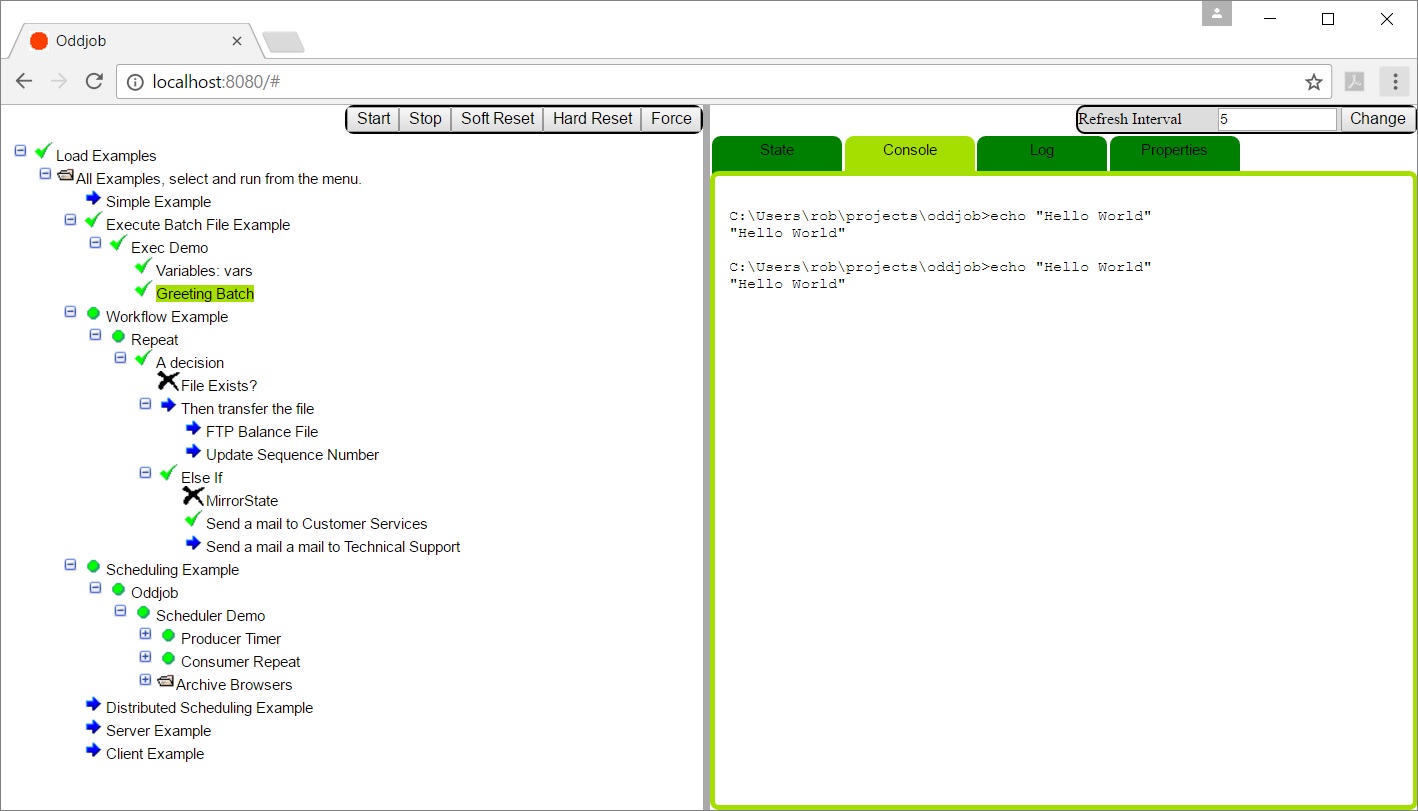 Viewing Oddjob via a Browser.